"Box A" ESB (Extra Special Bitter)
5 Gallon Beer Ingredients Kit
Extract with Steeping Grains
3 gallon partial boil, 5 gallons final volume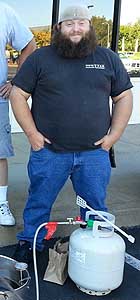 This Beer Recipe Kit is dedicated in loving memory to
DOMINIC REGINATTO
one of our first employees, and a damn fine brewer
One of our popular "brown bag" in-house beer ingredient kits. Save money on fancy packaging – spend it on quality ingredients!
Unlike the name implies, an Extra Special Bitter (ESB) isn't bitter. It is simply an English version of the infamous American Pale Ale.
ESBs are actually quite high in IBUs, but the hops are balanced by malt and caramel flavors. Use of English hops and yeast subdue the typical American hop bitterness to a nice, smooth co-existence.
Dominic was CRAZY about English beers. Prior to his tragic passing in 2013 he challenged himself to design a flavorful and robust ESB that would fit into a USPS Regional "Box A" for easy mailing. He succeeded handily, and thus the name of this beer kit came about!
We think Dominic did a fantastic job designing this beer. Raise a pint in his memory!
CHARACTERISTICS and SPECIFICATIONS:
· Starting Gravity: 1.046
· Ending Gravity: 1.012
· Estimated Alcohol by Volume (ABV): 4.4%
· International Bittering Units (IBU): 35.9
· This beer's secret ingredients: Two types of Crystal malt, East Kent Goldings, and Dominic
Like all our beer kits, this kit comes complete with:
· Name brand liquid or dried malt extract
· Steeping grains crushed and ready to go
· Muslin steeping bag(s) to hold grains while you steep
· Name brand hops
· 50 oxygen absorbing bottle caps – beer stays fresh longer!
· 5 ounces priming sugar for bottle carbonation. (If you keg instead of bottle, you can add this to your wort during the last 5 minutes of boiling for a little extra "zing"!)
· Name brand dry beer yeast
· 1 ounce of Fermax yeast nutrient for the healthiest yeast propagation
· Easy to follow, detailed instructions (with phone and email support if you need it)